I could not resist this crafty bit of LEPRECHAUN MAGIC!!
It is from a child's craft site,
A Differentiated Kindergarten but I think it would be a HILARIOUS SURPRISE for any member of your family, first thing in the morning!! or your PARTY GUESTS after a few beers!
Don't want to dress in all green or wear the obvious Shamrock Tee-shirt? Try a fun and festive nail design!
How about a GREEN French manicure or the Irish flag?
MUST HAVE ST. PATRICK'S DAY FOODS
Ingredients:
3 cups of bleached flour ( I used unbleached.)
1 tablespoon of baking powder
1/3 cup of sugar
1 teaspoon of salt
1 teaspoon of baking soda
1 egg
2 cups of buttermilk
¼ cup of melted butter
I added:
1 cup of raisins or a dried fruit
Directions:
1. Grease the bottom of a loaf pan and preheat the oven to 325 degrees.
2. Dump in all the dry ingredients.
3. Mix them together.
4. Add the egg and melt butter.
5. Stir until all the ingredients are moist.
6. Add raisins and stir just until they are blended into the mixture.
7. Pour into pan.
8. Bake for one hour.
9. Let it cool overnight.
TRADITIONAL CORNED BEEF AND CABBAGE
2

quart(s)

water

1

cup(s)

coarse salt

1

tablespoon(s)

pink curing salt

1/2

cup(s)

sugar

1

teaspoon(s)

coriander seeds

, crushed

1

teaspoon(s)

mustard seeds

, crushed

1

teaspoon(s)

black peppercorns

, crushed

1

cinnamon stick

, crushed

4

dried bay leaves

, crushed

8

whole cloves

5

pound(s)

flat-cut beef brisket

1

medium

onion

, halved

1

medium

celery stalk

, halved

1

medium

carrot

, peeled, halved

1

pound(s)

baby turnips

, peeled, trimmed

1

pound(s)

baby carrots

, peeled, trimmed

1

medium

head cabbage

, cut into 8 wedges

1

pound(s)

small red potatoes

Dijon mustard

, for serving
---
Directions
Make the brine: Bring water to a boil in a large pot. Add salts, sugar, and spices; remove from heat, and stir until salts and sugar dissolve. Let cool.
Make the corned beef: Place brisket in a nonreactive container just large enough to hold it. Pour cooled brine over meat. Place 2 small plates on top to keep meat submerged; cover, and refrigerate for 2 weeks.

Rinse brisket; discard brine. Place in a large pot. Add enough water to cover by 2 inches. Add onion, celery, and halved carrot, and bring to a boil. Reduce heat, cover, and simmer until very tender, 3 to 3 1/2 hours.

Set a steamer in a large saucepan. Add enough water to reach the bottom, and bring to a boil. Add turnips. Reduce heat, cover, and steam until tender, 8 to 10 minutes. Transfer to a bowl. Repeat with baby carrots, steaming 10 to 12 minutes. Add to turnips.

Transfer corned beef to a cutting board. Tent with foil, and let rest for 30 minutes. Discard remaining solids from broth, then bring to a boil. Add cabbage and potatoes, and simmer until tender, about 25 minutes. Add turnips and carrots, and cook until warmed through. Transfer vegetables to a platter; reserve broth.

Trim excess fat from beef. Slice thinly against grain, and transfer to platter. Serve with broth and mustard.
1 white or yellow cake mix plus ingredients
White Buttercream Frosting
Mini muffin tins
Mini cupcake liners
Directions:
Prepare cake mix or other cake recipe. Divide batter into 6 bowls and add coloring to each bowl.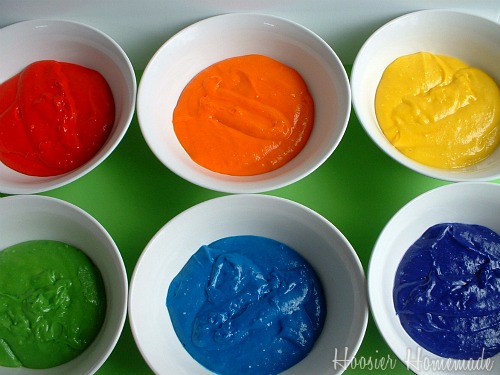 I added about 1 cup of batter for the Red, and then a little less for each color. Add 1 tablespoon of batter to each cupcake liner.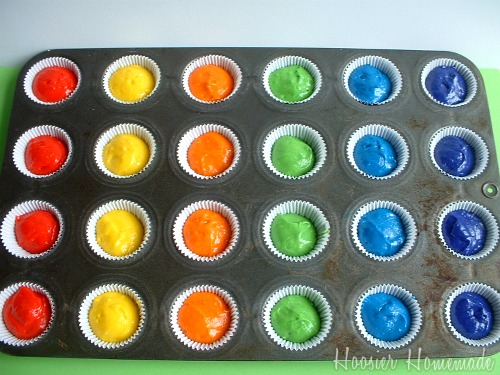 Bake at 350 degrees for about 10 minutes or until a toothpick inserted comes out clean.
To assemble the Rainbow you will need…
Red – 20 cupcakes
Orange – 17 cupcakes
Yellow – 14 cupcakes
Green – 11 cupcakes
Blue – 8 cupcakes
Purple – 6 cupcakes
To decorate…
Fit a decorator bag with a
giant round tip
, add the frosting to the bag. Pipe on a small amount of frosting and immediately add colored sugar.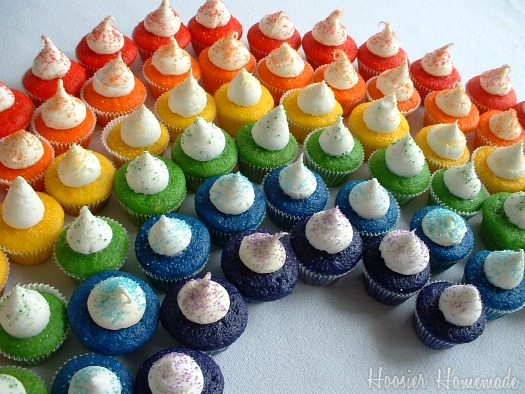 End your St. Patrick's Day toast off with a hearty 'Sláinte!' (pronounced 'slawn-cha'),
which means
Health!
and is the equivalent to 'Cheers!'